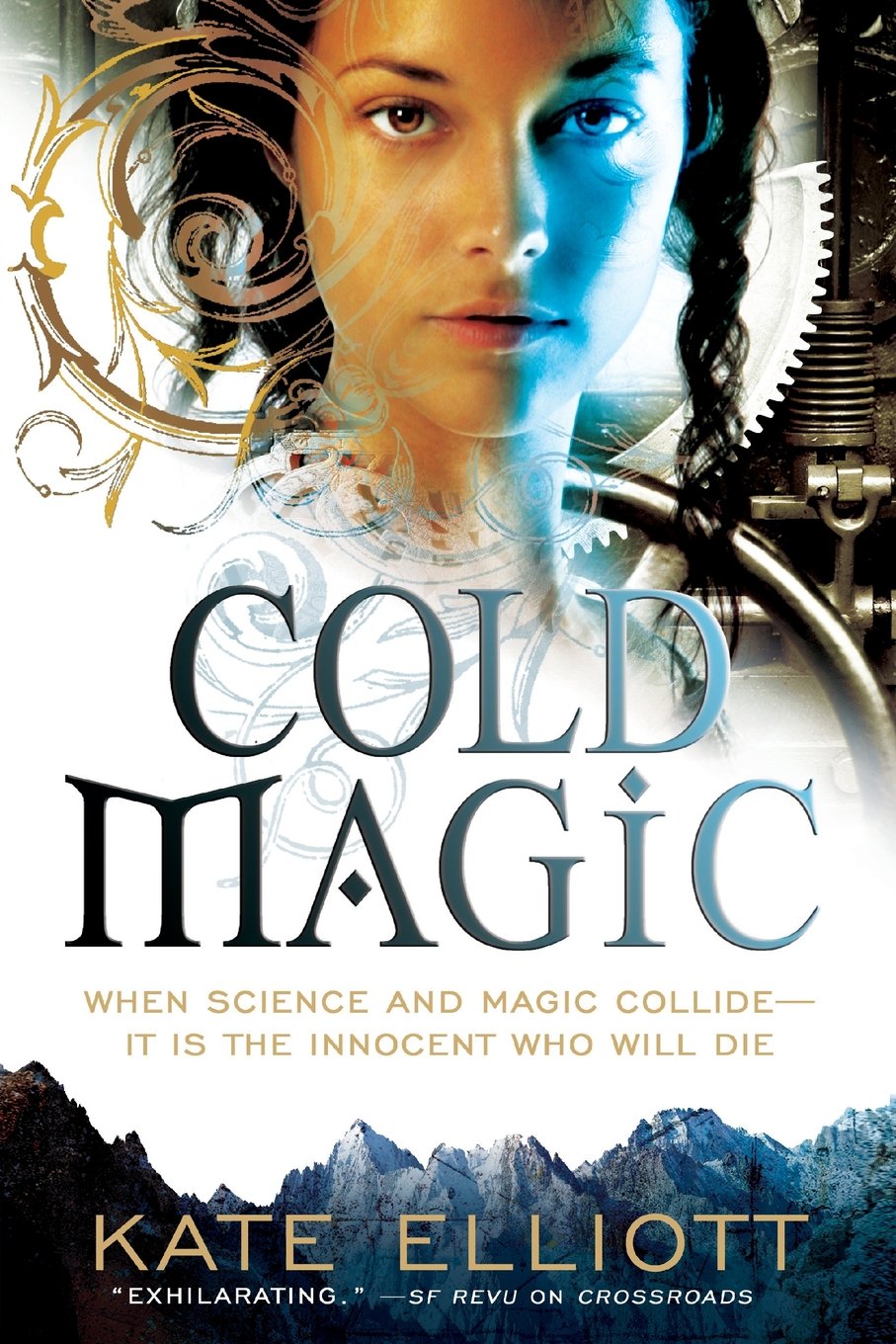 Kate Elliott created a whole new world in her novel Cold Magic. The familiar names of the countries give a false sense of familiarity. Truly though the world is unique. Through this unique world, Kate Elliott created a fascinating story that includes action, adventure, mystery, fantasy, politics, and even romance. There is a little bit for everyone woven together seamlessly to create a magical story.
Synopsis
Cold Magic is set in a fantasy, steampunk version of Europe. Considered property, women do not receive much education normally. Technology has started emigrating to Europe, but slowly as magic can interfere with it. Politically, princes rule some areas, while mage families, called houses rule others. All the children train equally in the family of spies at the beginning of this novel.
Catherine, called Cat, tells the story in a first person point of view. Though, an orphan, she lived and learned with her aunt and uncle. They raised her as one of their daughters, encouraging her close companionship with her cousin, Beatrice. Her life feels like a lie when forced into a binding marriage that had originally been meant for Beatrice.
Her new husband's mage house tries to kill Cat after discovering the lie. Cat runs for her life. Determined to live and help her cousin from such a marriage, Cat journeys towards her old home. She receives help from unexpected places, such as from her new husband even though ordered to kill her.
Thoughts
I thought that this novel was well-written and engaging. Almost from the first moment, I wanted to keep reading. In fact I spent about a week devouring this novel and the rest of the trilogy. Cat and Beatrice have a wonderful sisterly relationship. They show a willingness to help each other despite their differences.,
Cat shows a remarkable capability to care. She struggles to trust anyone after her aunt and uncle betray her. Cat portrayed a female willing to question and fight, in a world where females were mostly considered property.
The novel had many different aspects with really well portrayed characters. It included mystery, romance, adventure and fantasy. Kate Elliott wove together several story lines while only writing from one point of view. I loved reading Cold Magic and the rest of the series. I would recommend this novel to older young adults and adults. Though enjoyable of a read, I think the conflict in the story would be a struggle for younger readers to understand.
Let me know what you thought of this novel.