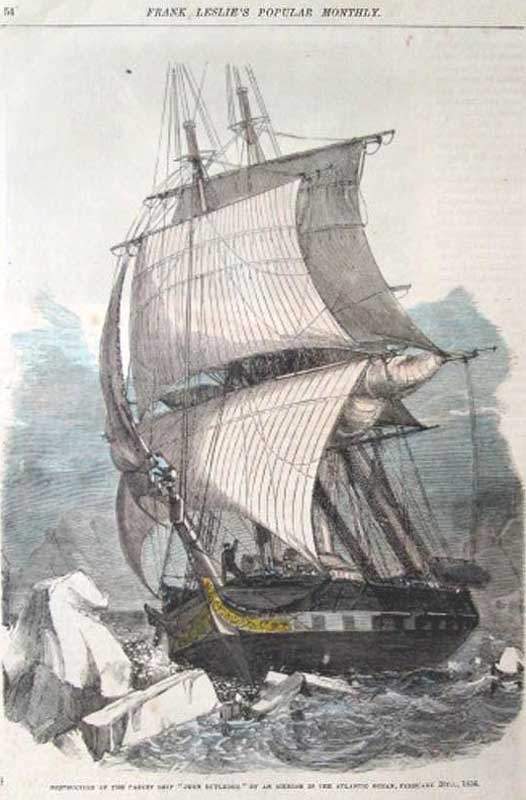 In 1856, the steam packet-ship John Rutledge, on a trip from Liverpool to New York, hit an iceberg and sank, leaving Thomas Nye as the lone survivor.
In the Atlantic Ocean is a place called the ice corridor. Many icebergs roam the area. The early months of the year 1856 proved deadly at sea. Several ships went down in the ice corridor including the John Rutledge.
John Rutledge traveled a normal line back and forth between Liverpool and New York. Even though sailors warned about the dangerous icebergs, the captain chose to stay on schedule leaving Liverpool on January 16th. About a month later on February 20th, the ship found itself among the icebergs and did not survive. An iceberg ripped a hole in it. By the end of the day, they had abandoned the ship.
The last lifeboat contained thirteen people including Thomas Nye. He had come from a family of sailors and knew a little about the sea. Unfortunately, their provisions on the lifeboat could not sustain all of them. They quickly ran out of water and food. As the thirst intensified, some passengers drank the seawater, causing delusions and more. Nye described it as being a boat of lunatics.
Over nine days stranded in the boat, all except Nye died. He survived when on that ninth day he saw a ship and weakly flagged them down. With the care from that ship's captain's wife, Nye survived, losing only two toes. They returned him to the United States and he never sailed again.