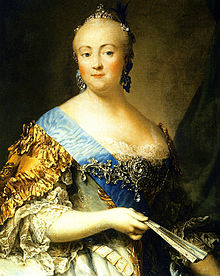 Russian princess Elisabeth Petrovna grabs powers in 1741
Born of Peter I and Catherine I, Elisabeth Petrovna showed no real interest in the politics of Russia until her cousin Anna took the throne. After a few years, members of the court, who wanted to return to the rule of Peter the Great, convinced his daughter Elisabeth to stage a coup.
Elisabeth organized the coup and it went forward December 5-6, 1741. Afterward, Elisabeth chose to leave most of the management to her advisers. Under her rule, she encouraged art and education, She founded the St. Petersburg Academy of Science, Russia's first university. She made education free to most of the social classes. Also under her rule came the first public theatre and academy of arts.
Unfortunately, instead of ruling, Elisabeth focused on parties, clothes, and other extravagances. In an attempt to build the lavish Winter Palace she went through half the treasury. She died in 1762 leaving the throne to Peter III.