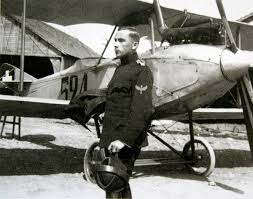 In 1929, Swiss pilot Walter Mittelholzer became the first to fly over Mt. Kilimanjaro.
Born in 1894, Walter Mittelholzer grew up to become a photographer and pilot. After World War I, he co-founded an airline that eventually evolved into Swissair. He also decided to turn his plane's bathroom into a darkroom. This allowed him to check the exposure of his photos while in the air. He could then decide if the pictures would turn out.
Walter Mittelholzer took photos of places with the intent to sell the photos to the owners. He also liked to photograph mountains. In 1929 he flew over the tallest African mountain, Mt Kilimanjaro, the first pilot to accomplish it. Throughout his life, he took many photos, compiled them into books, and sold them. He died in a climbing accident in 1937.