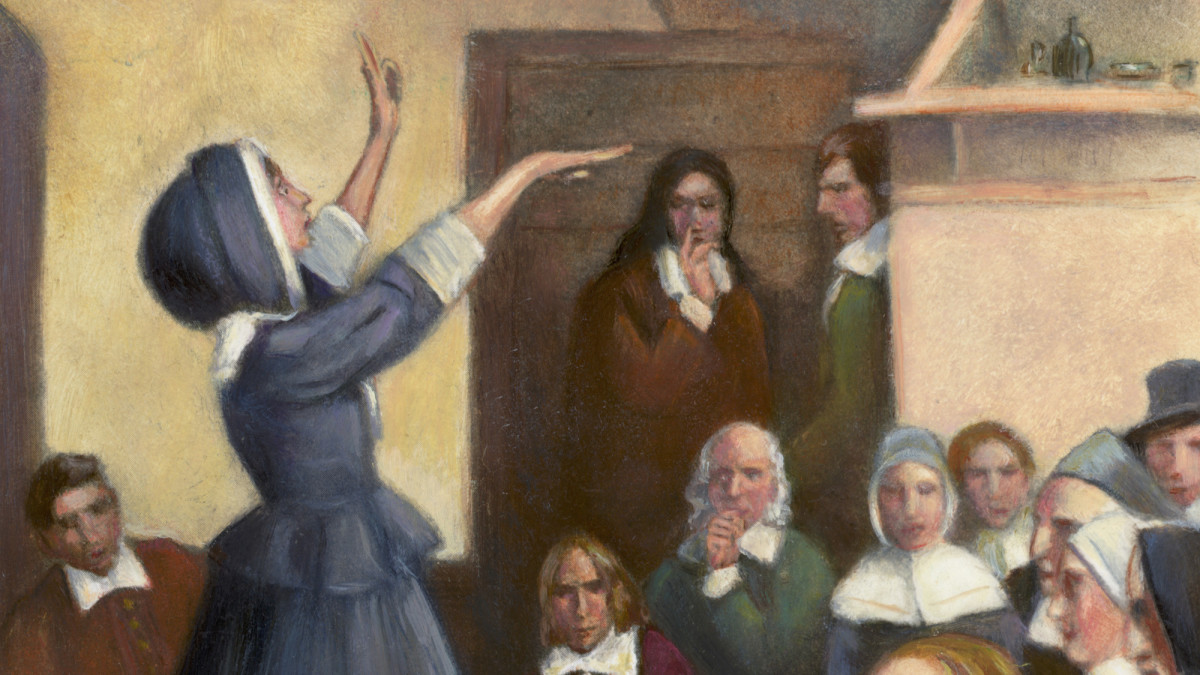 In 1638, Puritan authorities expelled religious dissident Anne Hutchinson from Massachusetts Bay Colony.
Born in 1591, Anne Hutchinson grew up in England as the daughter of a Puritan minister. He taught her to read and think for herself. She married a wealthy merchant and helped make a living as a midwife and healer.
She and her husband, William Hutchinson followed the teaching of John Cotton. In fact, Anne would hold meetings in her home for women to discuss the teachings of John Cotton. Eventually, authorities expelled Cotton to Massachusetts, and Anne and her family followed.
There in the Massachusetts Bay colony, Anne continued her twice-weekly meetings with women in her home. With these meetings and her ability as a midwife, she grew in popularity. Soon, almost eighty people would attend her meetings. Though these meetings started with the intent of discussing the sermons of John Cotten, they eventually changed to criticism of the Puritan beliefs and listening to the teachings from Anne.
Leaders disliked the popularity of Anne Hutchinson. They felt that she would encourage other ladies to behave improperly. Anne, they said, did not know her proper place as a woman. In 1637, they tried and convicted her, so that in March of 1638, she and her family were banished from the Massachusetts Bay Colony.
Anne and about thirty other families moved to Rhode Island. After a few years, William Hutchinson died and Anne heard that the Massachusetts Bay Colony would grow to include Rhode Island. Worried, she moved her family to New York, where she and all but one daughter, died in an attack by Native Americans. Now people honor Anne as an early feminist.