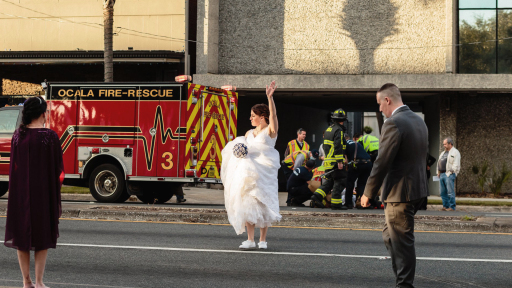 Fox News tells the stories of law enforcement officers in two states that helped to save lives. In this difficult time, we need to remember that most police and law enforcement officers want to help. They willing put their lives on hold or on the line for others.
In "Bride and groom pause wedding photos to help man hit by car" the wedding couple in Florida are law enforcement, including most of the wedding party. While taking wedding pictures a car hit a man nearby. The couple halted the wedding pictures and with their wedding party went to help. While some helped the man, the bride directed traffic, still in their wedding finery. Luckily the man was not seriously injured so the wedding festivities continued after the ambulance took away the man.
Then in "Phoenix police save driver trapped in burning car, video shows" police officers run towards the burning car. The body cam of one of the officers shows them running towards a burning SUV. Unable to break open the driver's side window, the second officer retrieves a fire extinguisher and smashes the window open. They pulled out the driver and started CPR until the man revived and was taken to the hospital.
In both these cases, in two different states, law enforcement put their lives on hold to help. One couple stopped their wedding festivities to help. While in another state, officers put their lives on the line to help rescue a man from a burning car. In times of turmoil let's remember the kindness and willingness to help of the police.